Why join Lindt USA?
Why join Lindt USA?
As a multi-channel, fast-growing consumer goods company, we recognize that in a competitive market, hiring the right talent makes all the difference. Whether you're a part of our Sales Team partnering with our national retail customers, on our Marketing Team managing our brands, or on our Retail Team engaging with consumers in one of our 60 wholly-owned Lindt Chocolate Shops, Lindt USA offers you the opportunities necessary to grow your career. To create happy and loyal Lindt consumers, we need to hire and retain empowered and results-driven Lindt employees. Our teams are comprised of inspired and dedicated professionals who stretch the boundaries of a typical career experience by making a difference in our business every day.
In addition to attracting and retaining the best talent, Lindt USA also focuses on how we can support these individuals once they get here. We offer a competitive compensation and benefits package, tuition reimbursement, and a 401K plan with a company match, as well as Flexible Work Options and a generous Paid Time Off policy. We believe in developing our employees and providing them with the support, resources and opportunities necessary to help them create a truly extra-ordinary career for themselves.
Company Culture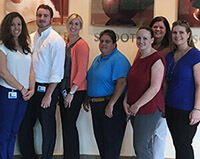 At Lindt USA, we pride ourselves on creating a dynamic, engaging and professional environment that embraces diversity, fosters innovation and drives for results in a competitive, fast-paced market. Rooted in both our credo and our company strategy, Lindt USA continually aims to attract and retain the best talent; people who share our passion for premium chocolate and the desire to drive profitable growth and market share in the U.S. We aspire to be seen as an Employer of Choice and believe it's important to listen to our employees, develop our capabilities and teams, and celebrate our successes in a way that cultivates an intrinsic dedication to our products and our consumers.
What makes working at Lindt different? Our values and our commitment to you.
We understand that you have a choice in where you grow your career. Here are three reasons why you should come grow with us:
Distinctively Supportive: From your first day with Lindt USA, we aim to provide every Stratham employee with a premium onboarding experience, which includes lunch with our CEO, a tour of our production facility, and an opportunity to see how every aspect of our business lends itself to making Lindt USA a leader in the premium chocolate category. Being Distinctively Supportive means investing in what's important to you. We offer up to 100% tuition reimbursement, employee referral bonuses, 401(k) with company match, a comprehensive Paid Time Off policy, flexible work options, and even a free turkey at Thanksgiving. Our Employee Assistance Programs offer free legal, financial, and mental health counseling services as well as smoking cessation and Weight Watchers groups. With our open door leadership style and commitment to cross-functional collaboration, we understand that it's not just about who you work for, but rather who you are able to work with. Managers, Directors, and Vice Presidents at Lindt USA are accessible, knowledgeable, and eager to empower their team members in order to truly support their professional development, goals, and ability to impact the business.
All for Growth and Growth for All: Lindt USA employees have spent the last 25+ years helping to grow our organization, expand our market share in the premium chocolate category, and increase our consumer-base across the U.S. When we grow, we want to enable you to grow with us. All for Growth and Growth for All is a core value for us because we believe our success is a result of our collective efforts, and those wins should be shared. Regardless of whether you start your career with us as an intern in our competitively paid Lindternship Program, or you join as a mid-level professional with room to stretch, we want to ensure you have the tools, training, and resources you need to succeed. Our proven track record of developing and promoting talent from within, as well as our commitment to hiring high potential temporary employees into permanent positions within 90 days, has helped us not only attract, but retain, top talent. With a customized Career Pathing program, Lindt USA employees have the opportunity to not only move upwards within our organization, but they can also explore opportunities with our sister companies, Ghirardelli and Russell Stover, or even our international Lindt & Sprüngli teams across the globe.
Creating Moments of Happiness: Creating Moments of Happiness is a core value for us because at the end of the day, everyone should be able to love where they work and share in each other's success. When our production team hits certain performance milestones, we throw a company-wide pizza party, and when the weather warms up, you can find our VPs and Directors serving up ice cream to employees as a way to kick off the summer. If you're happiest spending time with friends and being active, we have a gym on campus that's accessible to employees 24/7, yoga and fitness classes, and after-work Running, Golf, and Bowling Clubs that are open to all Lindt USA employees. Our cafeteria, the social hub of our campus, offers homemade breakfast, lunch, and dinner options for all three shifts, fresh sushi on Thursdays, a loaded soup and salad bar, and an extensive array of coffees that includes a Buy 10 Cups, Get 1 Free coffee-card program. Stratham employees across all departments are invited to our annual Holiday Gala and receive generous amounts of complimentary product.
A Company you join. A Community you belong to.
With an 800,000 square foot campus, it's sometimes challenging to connect with colleagues and meet new people in other departments. That's why Lindt USA both financially and socially supports the creation of inclusive employee-led clubs, cross-departmental committees, and company-wide initiatives to help you meet other members of the Lindt USA community. With Bowling, Golf, and Running Clubs, Fitbit Challenges, and team outings, you're only one RSVP away from meeting a whole new circle of colleagues.
Social Responsibility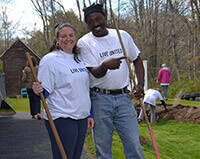 As it states in our credo, "We want to be recognized as a company which cares for the environment and the communities we live and work in." Our consumers and our community members are one in the same, and at Lindt USA, we take a lot of pride in our charitable giving campaigns and our focus on local volunteerism. As an official partner of the United Way of the Greater Seacoast, we recognize that while national organizations are certainly important, sometimes the greatest need for support comes right from our own communities. It's because of this that Lindt USA participates in two United Way "Days of Caring" each year where employees are able to spend a full day volunteering on company time at local nonprofits around the Seacoast. In addition to donating their time, Lindt USA in partnership with our employees raised over $300K through our annual giving campaigns, all to assist nonprofits in need.
President's Club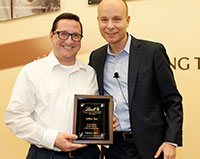 Twice a year, the esteemed Lindt President's Club award is awarded to extraordinary employees who make a difference in the business...every day. These employees are nominated by their colleagues because they personify the values outlined in our Company Credo. A steering committee comprised of employees at all levels from across the business review the nominations and select the best candidate for our President's review. These special winners join the President's Club Hall of Fame, are celebrated in our Company's magazine, receive a cash award and use of the coveted "President's Club Parking Space" for six months.
PROMOTING HEALTH AND WELLBEING AT LINDT USA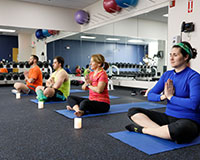 Our goal is to empower a vibrant, healthy workforce that actively engages with the education and support offered to improve the physical, emotional, and financial wellbeing of our employees and their families. We continue to increase and improve our robust health and wellness options through additional benefits, fitness center classes and equipment, and healthy living programs/services. The attached Benefits-At-A-Glance document highlights a sampling of our offerings when you join a Full-time role here at our U.S. headquarters. For more information on our Part-time and Full-time Retail benefits, please view our Retail openings as these are described in the respective job descriptions.
Four Reasons to Love Working in the Seacoast
Whether you prefer bright city lights or serene country landscapes, Lindt USA's centralized Seacoast location offers the best of both worlds.
Exploring the Area - Lindt USA is conveniently located in the Tri-State area, meaning you are 10 minutes to Massachusetts and 10 minutes to Maine, so no matter where you'd prefer to live, you have several cities and towns that are ideal for commuting. An hour from the office, you can also visit Portland, Maine, and its thriving seaport with unique art, food, and music scenes, or head south to Boston to shop in Copley Square, take in a Bruins game or enjoy an authentic Italian dinner in the North End. If you're a fan of weekend road trips, Burlington, Vermont, is only three hours to our west, and New York City is just four hours to our south. Even better – there are bus and train options to all of them!
Portsmouth, NH - Known as the Jewel of the Seacoast, downtown Portsmouth is only 10 minutes from the Lindt USA campus and is home to hundreds of restaurants, boutiques, theaters and breweries. Portsmouth is also home to Prescott Park, a 3.5 acre waterfront venue that is free to the public and hosts everything from a Chowder Fest in the spring to a Chili Cook-off in the fall. Additionally, the park is most well-known for the Prescott Park Arts Festival, which has been bringing live theater, dance and music performances to the area since 1974. Click here to read about Portsmouth.
Summertime Activities - While all of the seasons are unique in New England, there is nothing like summertime in the Seacoast. With some of the most beautiful coastline in New Hampshire, Massachusetts, and Maine, there is always a new beach to walk or a new wave to surf. Lake Winnipesaukee and the mountains to our north offer family-friendly camp sites, hiking, paddle boarding, and kayaking, and only minutes from the office, there are several water-front restaurants, 18-hole golf courses and live music venues. When the summer cools down and autumn sets in, be ready for some of the most beautiful foliage, apple picking and local fall festivals.
Wintertime Activities - Regardless of whether you prefer snowmobiling or snowshoeing, winter in New England has a little something for everyone. With a brand new ice skating rink in the middle of Portsmouth's historical Strawberry Banke, you can take a lesson, free skate, or just enjoy the rink as a spectator with a cup of hot cocoa. For those seeking a faster pace, there are no shortage of ski and snowboard trails, as New England is home to more than 60 different ski lodges and resorts. For our employees' convenience, we also offer discounted lift tickets available for purchase in our main lobby.
Read more

about Portsmouth
Our Brands
Lindt Lindor
Lindt Excellence
Lindt Gold Bunny
Lindt Hello
Lindt Signature Collection
Lindt Classic Recipe
Lindt Truffles