R&D / MANUFACTURING / QUALITY ASSURANCE Careers
At Lindt USA, our Manufacturing and Research & Development (R&D) Teams provide a unique sense of pride and ownership over our product development and production processes. Lindt USA is proud to be one of the only bean-to-bar chocolate production facilities in the country. Our production process is managed by some of the industry's most talented professionals, which include R&D specialists, a Swiss-trained Maître Chocolatier, and highly-trained Line and Machine Operators who work with state-of-the-art equipment.
Meet our Maître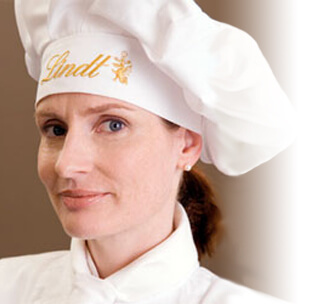 Ann Czaja, Lindt USA's Swiss-trained Maître Chocolatier, began her career studying pastry and chocolate from the world's foremost authorities while living in Zurich, Switzerland for 14 years. It was a very intense but rewarding experience, and after returning to the U.S., Ann has continued to support Lindt USA in product development and innovation, and is an integral part of our R&D team. One of the things that she is most passionate about is the rich cultural history, mastery and quality that Lindt brings to the U.S. marketplace.
Research & Development
Our Research and Development (R&D) team at Lindt USA is home to our Maître Chocolatier, Product Developers, Product Technology Engineers, and our Quality Systems and Compliance Engineers. Together, these teams bring new chocolate innovations to life by developing new chocolate recipes, driving product innovation and engaging in sensory and consumer analysis.
Quality Assurance
The Quality Assurance (QA) team at Lindt USA is made up of three expert teams: Food Safety, Production and Analytical. Together, they ensure our ingredients are premium, of the highest quality and safe for our consumers. These teams are comprised of some of the most talented and knowledgeable Food Safety Engineers, QA Engineers, QA Specialists and QA Analysts in the industry.
Consumer Services
The Consumer Services team directly engages with our consumers to ensure the highest level of customer service is delivered every day. Their mission is to directly support our retail, B2B, and E-commerce teams and to resolve any inventory, online-order or consumer-related questions.
Production
Our highly trained Production teams carefully craft and produce the world's best chocolate in a clean, safe, state-of-the-art facility. With opportunities to be trained on all aspects of the production process, our manufacturing professionals work together to produce the chocolate that delivers the ultimate quality and taste experience.
Engineering
Our Engineer team supports the growth of the business by overseeing the installation of new equipment and infrastructure within the Stratham facility. They focus on managing continuous improvement projects to ensure our manufacturing processes are both safe and efficient. This team of experts includes Industrial Engineers, Continuous Improvement Engineers, Project Engineers and Packaging Engineers.
Facilities
Our Facilities team is responsible for ensuring our state-of-the-art facility and grounds remain safe, efficient and in top-working order. This team includes highly trained Mechanics, Maintenance Supervisors, Planners, Health and Safety Engineers, as well as Facilities and Controls Engineers. Our Director of Facilities also oversees the campus security to ensure we maintain a safe and secure working environment for all employees.
Warehouse & Logistics
Within our climate-controlled warehouses, we have several teams including our Line Operators, Logistics/Distribution, Fulfilment, Administration, and Customer Service all working together to ensure our products are being stored, tracked, and shipped in a timely manner to deliver the highest level of service to our retail stores and wholesale customers located across the country.
Our Brands
Lindt Lindor
Lindt Excellence
Lindt Gold Bunny
Lindt Hello
Lindt Signature Collection
Lindt Classic Recipe
Lindt Truffles