MANUFACTURING / R&D / QUALITY ASSURANCE CAREERS
At Lindt USA, our Manufacturing and Research & Development (R&D) Teams provide a unique sense of pride and ownership over our product development and production processes. Lindt USA is proud to be one of the only bean-to-bar chocolate production facilities in the country. Our production process is managed by some of the industry's most talented professionals, which include R&D specialists, a Swiss-trained Maître Chocolatier, and highly-trained Line and Machine Operators who work with state-of-the-art equipment.
Meet our Maître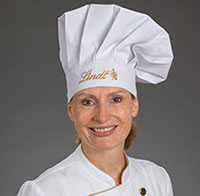 Ann Czaja, Lindt USA's Swiss-trained Maître Chocolatier, began her career studying pastry and chocolate from the world's foremost authorities while living in Zurich, Switzerland for 14 years. It was a very intense but rewarding experience, and after returning to the U.S., Ann has continued to support Lindt USA in product development and innovation, and is an integral part of our R&D team. One of the things that she is most passionate about is the rich cultural history, mastery and quality that Lindt brings to the U.S. marketplace.
Research & Development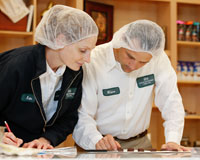 The Lindt R&D team is helping to shape the future of the US Chocolate Market through an innovative strategy that is supported by a state-of-the-art sensory, technology and innovation lab right here on the Stratham, NH campus. Our Research & Development team includes our Master Chocolatier, Product and Innovation Developers, Product Technology Engineers, as well as a Sensory and Regulatory professionals. Driven by passion for our brand, the commitment to producing the highest quality products, and strong collaboration across the business this team creates innovative products to support both the local and global markets.
Quality Assurance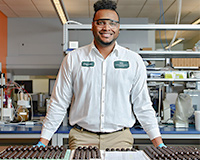 The Quality Assurance team is responsible for ensuring our highest standards for quality and food safety are met every day. This includes every step of the manufacturing process. Together, collaborating with their peers in Operations we ensure these standards are met at every step in the manufacturing process to ensure highest quality premium chocolates. There is something exciting for anyone passionate about quality and food safety whether you are working in a new laboratory analyzing raw ingredients, in process chocolate products or on the floor with production or project engineers installing new state of the art process equipment. As a Quality Assurance Specialist, Quality Systems or Food Safety Engineer, everyone contributes to the best quality and food safety standards in the industry.
Consumer Services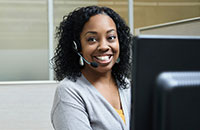 The Consumer Services team directly engages with our consumers to ensure the highest level of customer service is delivered every day. Our mission is to directly support our retail, Business to Business (B2B), and E-commerce teams and to resolve any inventory, online-order or consumer-related questions in an effective and timely manner.
Production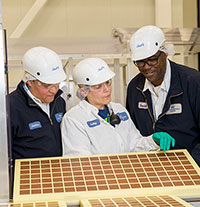 Our highly trained Advanced Manufacturing Teams carefully craft and produce the world's best chocolate in a clean, safe, state-of-the-art facility. Individuals choosing a career with our Manufacturing team have many opportunities to work in different areas of the chocolate manufacturing process delivering premium products to our consumers.
Click here to view our open Production opportunities.
Facilities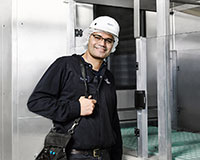 Our Facilities team is comprised of highly trained Mechanics, Controls Engineers, Maintenance Supervisors and Planners who are responsible for identifying and addressing opportunities to drive added efficiency in our state-of-the-art manufacturing facility. Lindt is also a company that cares about the environment we live and work in, which is why we created a "Lindt Green Team" comprised of employees who help to ensure our processes follow environmentally responsible practices to reduce our carbon footprint.
Engineering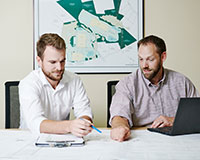 Our Engineering team is comprised of Project Engineers, Packaging Engineers, and Continuous Improvement Engineers who support the growth of the business by overseeing the installation of new equipment and other infrastructure within the Stratham facility. This team of professionals focus on managing continuous improvement projects to ensure our manufacturing processes are both safe and efficient. The safety and security of our employees is also a top priority, which is why this team also includes Environmental Health and Safety professionals who ensure safety, awareness and risk management remains top of mind.

"As the Environmental Health & Safety Manager, I have the ability to positively influence our safety culture and ensure that our company maintains the highest standards of environmental stewardship." -Melanie P., EHS Manager
Warehouse & Logistics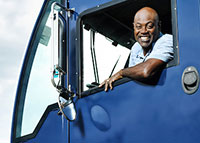 The Lindt and Sprüngli (USA) Logistics Group, including Customer Service, Warehousing, Fulfillment and Transportation all work together to store and deliver premium chocolate to our Lindt retail stores, wholesale customers, internal partners and on-line customers across the U.S. This team works across the business to execute at a high standard of excellence, identify opportunities to continually improve service and provide solutions that ensure our product arrives to its destination in a timely, efficient and cost-effective manner.
Click here to view our open Warehouse & Logistics opportunities.
Operations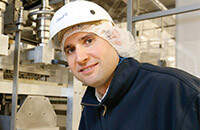 Lindt is one of very few 'Bean to Bar' chocolate companies, meaning from processing and roasting its own cocoa beans all the way to the finished packed truffles, bars and boxed chocolates, which allows the company to control the entire value chain of its products. This provides employees multiple opportunities to work in different areas of Operations within the Supply Chain. A stable environment and long term careers are a hallmark of Lindt.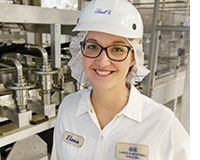 Elena G., Production Manager Elena joined Lindt as an International Trainee after completing her Masters degree in Food Science. Over the course of the 18 month program, she worked at the Lindt Production facilities in Germany, Switzerland and France. After completing these assignments, she joined the Lindt USA manufacturing team as a supervisor and was immediately involved the start up of a new production line. She has since been promoted to a Production Manager role and is responsible for overseeing three production lines and more than 70 employees. "Lindt gave me the opportunity to travel the world, develop professionally and grow within the organization. My job is full of challenges everyday and that's what I love about it!" - Elena G.
Apprenticeship Program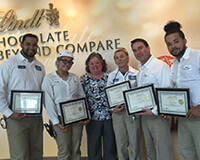 Through our highly engaging Apprenticeship program, Lindt is developing our top performing Line Leads to become future production leaders. This 6-month program program includes weekly classroom training provided by Lindt subject matter experts and on the job application in multiple areas of the production facility.
Success Stories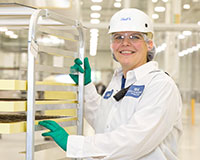 Kathy M., QA Systems Document Specialist Kathy initially joined Lindt as a temporary employee in the Moulding department. It wasn't too long before she was hired full time and provided opportunities to take on many progressive roles within the Production facility. She was recently promoted to supervise a team, is an active member of the Safety Committee and is pursuing her education through the Lindt tuition reimbursement program. "Lindt is a place where I feel valued and depended on. I know there is even more opportunity ahead for both my career and personal growth." - Kathy M.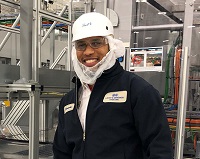 Eduardo M., Production Supervisor, Tablets I started my career with Lindt in 2005 as a temporary employee. I got hired as a Machine Operator and not too long after I moved to a Lead position. I took ESL classes and eventually began taking classes towards my degree. In 2015, I was given a great opportunity to run our newest line and advanced to a Team Lead position. I later became a Team Lead covering 3 lines, and became heavily involved with our continuous improvement initiatives. All of this helped me to become a Production Supervisor. I don't put limits on myself and Lindt has allowed me to meet my goals. - Eduardo M.